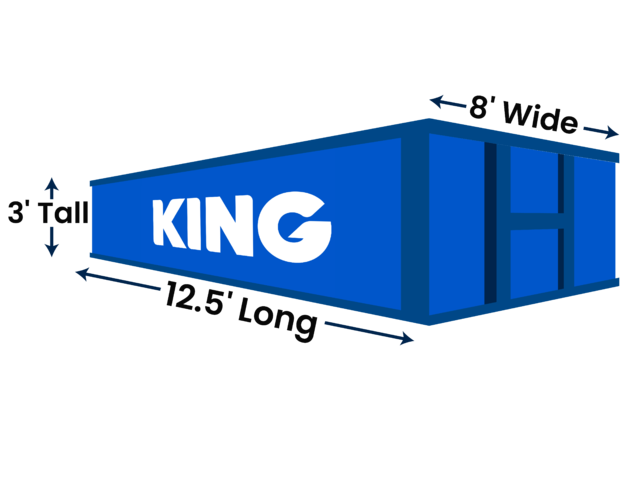 Size: 12.5'L x 8'W X 3' H
Days: 7 Days Residential/ 14 Days Commercial
Rent Time Extension: $10 Per Additional Day
Ton(s): 1 Ton Trash & Household / 3 Tons C&D
Extra Weight: $75/Household, $50/CD over tonnage
Description
A 10 yard dumpster can be beneficial in various scenarios where you require a moderate waste disposal solution. Here are some situations where you might need a 10 yard dumpster:
1. Home Cleanouts: If you're decluttering your home, clearing out a basement, garage, or attic, a 10 yard dumpster provides ample space to accommodate the accumulated items, including old furniture, appliances, and general household junk.
2. Renovations: For small-scale renovation projects, such as remodeling a bathroom or kitchen, a 10 yard dumpster can handle the debris generated, including cabinets, fixtures, drywall, and flooring materials.
3. Small Construction Jobs: For minor construction projects, such as building a small shed or renovating a single room, a 10 yard dumpster can handle the construction debris, including drywall, lumber, flooring, and general waste.
Overall, a 10 yard dumpster is well-suited for residential or light commercial projects that generate a moderate amount of waste and require a convenient and efficient means of disposal.
Dumpster Rentals for your Home
Save time and reduce expenses by renting a dumpster.
We provide fast delivery of roll-off containers to residential and construction sites throughout the Akron region. Our pricing is transparent and includes your rental duration, taxes, as well as drop-off and pickup expenses, making budgeting hassle-free.
When you choose our services, you can expect:
-Clear and upfront quotes with no hidden fees.
-Personalized guidance tailored to your project's requirements.
-Flexible rental periods for your convenience.
Your next project in Akron is made seamless with roll-off dumpster. Regardless of scale, we provide prompt, friendly service with an extensive range of dumpster sizes.
✔ Easy online ordering
✔ Dumpster and roll-Off sizes for every project
✔ Local and family-owned
Our team will text you time windows for your dumpster delivery. With delivery and pick-up reminders, your project can get done on time. Rest assured that we'll show up to your Akron home when promised.
✔ Two-hour time windows
✔ Great customer service
✔ Careful delivery and removal
We'll assist you in fulfilling your responsibility to maintain the cleanliness and beauty of Akron. Once we remove your rented dumpster, you'll have the satisfaction of knowing that your waste was handled appropriately.
✔Responsible waste management
✔Safe, responsible trash transportation