Rent a Dumpster Akron Ohio For Your Next Project
Do you need to hire an Akron area dumpster service? You have found the best in King Dumpsters of Akron, Ohio. When you want to partner with the best for your next residential project or construction job, give us a call and rent a dumpster Akron Ohio.


Local businesses and homeowners alike all come to us for top-notch service when they need to rent a dumpster Akron Ohio. Our team is proud of the customer service we provide and making sure that the job is well done, exceeding your expectations. At King Dumpsters, we provide dumpster rental in Akron OH to anyone who is looking for a way to get rid of their debris, trash, or garbage in a convenient, cost-effective way.

We have the best reputation in town for our quality service for customers looking to rent a dumpster Akron. We have containers that can handle whatever you throw in them, regardless of what the debris or materials are. Our roll off dumpsters Akron Ohio are placed where you need them by our drivers so you can fill them up with ease, saving you time and frustration.

No matter the size or scope of your next project, when it requires you to rent a dumpster Akron Ohio, you're in good hands with King Dumpsters. We are the Akron dumpster rental pros in Summit County! Here you may not find low prices for a cheap dumpster rental Akron Ohio has to offer but more affordable options with the best customer service and equipment to back it up. See why thousands of locals in the area have trusted us with their waste management service and dumpster rental service needs.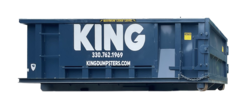 Dimensions
12.5'L x 8'W X 3' H
Rental Time
7 Days Residential/14 Days Commercial
Included Tonnage
1 Ton Trash & Household / 3 Tons C&D
Additional Days
:
$10 Per Additional Day
Extra Weight
:
$75 per additional ton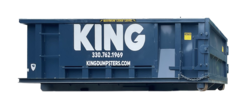 Dimensions
16'L x 8'W x 3.5'H
Rental Time
7 Days Residential/14 Days Commercial
Included Tonnage
2 Tons Trash & Houshold / 4 Tons C&D
Additional Days
:
$10 Per Additional Day
Extra Weight
:
$75 per additional ton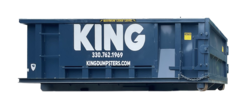 Dimensions
16'L x 8'W x 4.5'H
Rental Time
7 Days Residential/14 Days Commercial
Included Tonnage
3 Ton Trash & Household / 5 Tons C&D
Additional Days
:
$10 Per Additional Day
Extra Weight
:
5 Ton Limit
We Take Just About Everything
Some examples of the junk we haul away include:
Garbage Removal

Mattress Disposal

Foreclosure Clean Outs
Construction Waste Removal

Yard Waste Removal
Television Disposal & Recycling

Furniture Removal

Trash Removal
Dumpster Rental Akron Ohio For Various Uses
Why do people rent large-scale dumpsters? In our experience, there are a lot of different reasons to book a dumpster rental Akron Ohio. A homeowner might contact us when they are doing a DIY remodel to get rid of the cabinets, appliances, carpeting, etc. that have been ripped out. Renting a dumpster makes clean-out projects like this safer and more efficient. Our Akron rental dumpster options are just the tool you need to get that remodel done.
Local business owners use our trash dumpsters Akron Ohio on a regular basis. They know we are the best in the area with prices that can't be beat for a roll off dumpster Akron. Our team provides years of experience and we pride ourselves in offering excellent customer service every step of the way. See why we are the most trusted company in the local area for a dumpster rental in Akron Ohio.
Safety is also a strong factor for us with every single dumpster rental Akron, Ohio.. We secure the loaded containers and deliver them to the Summit County Landfill, where the contents will be disposed of properly, abiding by all necessary laws and regulations. When you're looking for dumpsters to rent in Akron, we have what you need. Just fill it with your waste materials and we will pick it up and haul it away safely, making room in your life for better things.
When you use King Dumpsters for your next dumpster rental Akron Ohio, you'll add to our long list of satisfied customers. Whether you have used us in the past for dumpster service Akron, you are an ongoing customer, or a first-time customer, you'll be glad you chose us. Let us help you complete your next project!
Residential Dumpster Rental Akron OH
There are countless times as a homeowner when a residential dumpster rental Akron OH will save the day. Using portable dumpster services Akron Ohio is your greatest tool in handling the trash and garbage that accumulates in and around the house.
Over the years, a residence can become cluttered, closets filled with unwanted and outgrown items that you told yourself you would sort out later. In many cases, it just keeps piling up. How about the kids' rooms filled with things they no longer want, need, or play with? When you realize it's time to sort through the junk, our solution couldn't be simpler with a residential dumpster rental Akron OH. The greatest thing is that it will all be taken away in one fell swoop. You'll be amazed at how good it feels to clean out the clutter in your life. Many customers say they wished they had done it sooner!
Most households don't have a big budget for things like Akron OH residential dumpster rental, which we understand completely. We try to provide the cheapest dumpster rental Akron Ohio so you can sort out the mess and not stress. King Dumpsters will make the task of getting rid of all the junk in your life easy, without breaking the budget. Call us today for your budget dumpster rental Akron, OH.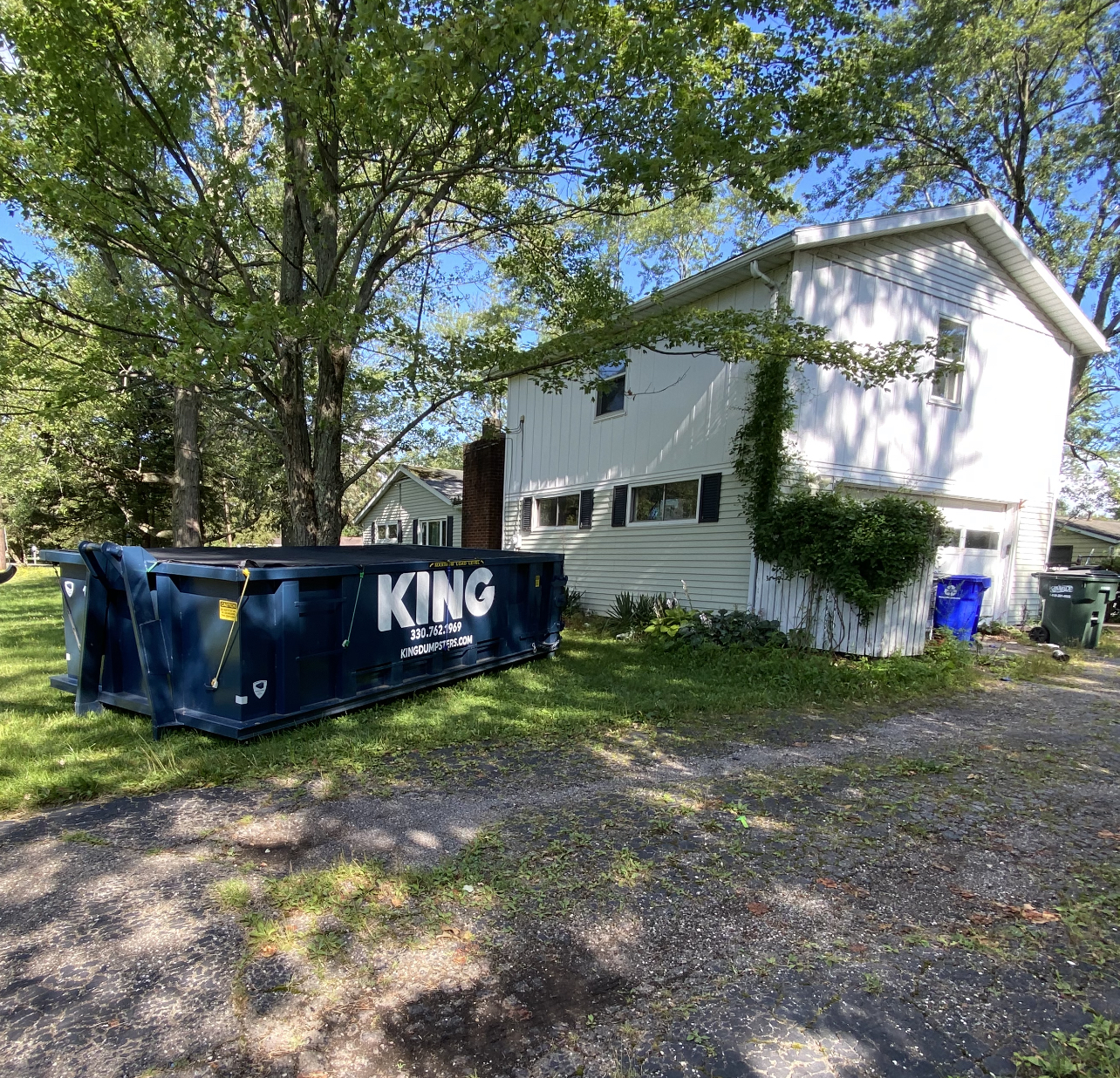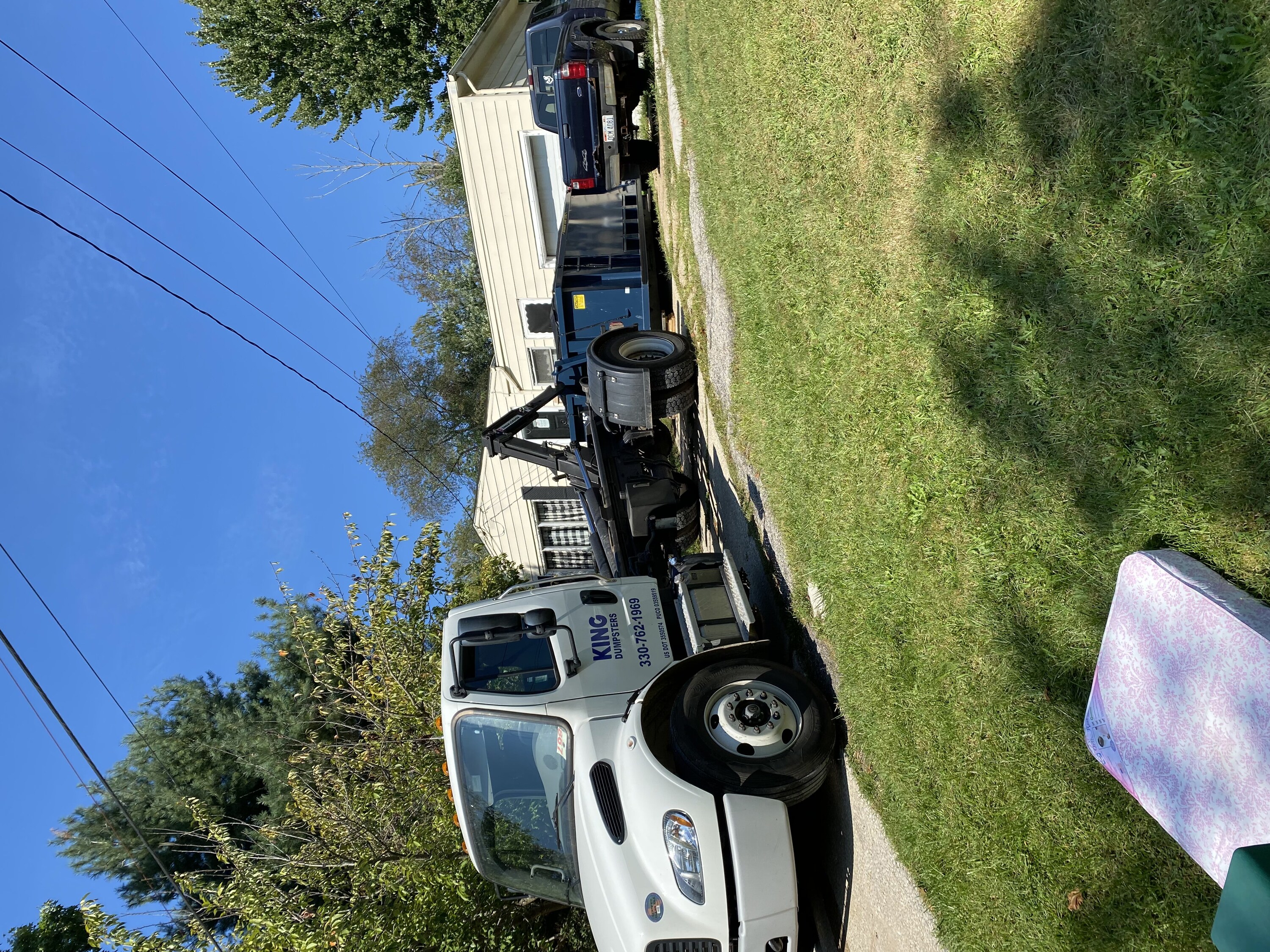 Yard Waste Akron Dumpster Rental
If you're searching for yard waste Akron dumpster rental options to dispose of yard debris, you've come to the right spot. When it comes to caring for your lawn and getting rid of a variety of yard waste, we are the local go-to provider for an Akron Ohio dumpster rental company to turn to.
Yard waste can be a real hassle and diminish the look of your landscape if not promptly taken away by Akron OH dumpster rental. Yard waste can be made up of a number of things from tree and shrub trimmings to an old swing set that your kids long outgrew. All of this and more can be taken away by our Akron OH dumpster rental pros.
Trying to haul the yard waste yourself in your pickup truck can end up being more costly than getting a small dumpster rental Akron Ohio. You risk damage to your vehicle if you try to handle it by yourself, taking multiple trips to the landfill, which ends up costing way too much time and gas. Reserve a Akron dumpster rental and avoid all that hassle. One simple call to King Dumpsters and you are on the right track to eliminating all of your yard waste at once without ever leaving the house with a smaller roll off dumpster rental Akron.
You and your family may be tackling the yard on a weekend and wonder if there is a dumpster rental Akron open on Sunday that offers last-minute 24-hour booking. With our simple online scheduling process, you can secure your container anytime of the day. It's that easy to rent a roll off dumpster Akron. Call King Dumpsters the next time you need a dumpster for your yard waste at (330) 762-1969 or use our convenient online booking tool.
Construction Dumpsters Akron
The smartest local contractors turn to us for all of their construction dumpster, Akron, Ohio needs. King Dumpster is the go-to for dumpsters Akron for construction companies because they know we work in an efficient, timely manner, so they can depend on us to deliver what we promise when we promise it.


We have been serving local contractors for years with quality customer service and budget friendly prices. An Akron OH construction dumpster rental is a necessary tool for all construction job sites. Debris from a construction site needs to be contained efficiently, and our dumpsters Akron OH service is here to partner with you so that your business runs smoothly.


Construction companies create all types of waste materials from roofing materials to wood and plastic. We'll halt it all away in our dumpsters Akron Ohio, allowing you to focus on the task at hand. Keep your job site safe and free of loose debris and hazards by checking out our dumpsters to rent in Akron prices today for your next construction job!
Roofing Material Akron Dumpster
For your next roofing job, rent a dumpster Akron to keep your worksite safe and mess free. When a local roofer needs an Akron dumpster, many choose us over and over again, knowing that King Dumpsters will come through on time and with the best price for an Akron Ohio dumpster.

Roofing materials can vary in size and materials, and we can haul it all away in our Akron dumpster choices. Whether you're disposing of sheet metal roofing or shingles, we have the heavy duty dumpsters that will haul all of your old materials away and get the job done for you.

Your schedule is important and you can't be waiting for your dumpster to arrive so that you can start your roofing job. You need it in place before you start, when you rent dumpster Akron OH from King Dumpsters, it will be there when and where you need it. A simple call will schedule the delivery of your container to your site and you'll be ready to stay on track with time and cost rent dumpster Akron.


Commercial Roll Off Dumpsters Akron

Use King Dumpster for your commercial roll off dumpsters Akron needs because we provide what you need as a business owner. All businesses create and collect trash, and you need a reliable company on your side to take that piece of your day-to-day operations off your plate.

We have the roll off dumpsters Akron for your ongoing or short-term commercial trash and garbage removal needs. If you need Akron recycling dumpsters on site for all the materials that should be recycled, we're here to help. Keeping your industry or restaurant free of trash of all sorts is an essential part of any business. No one wants trash overflow, so get on a scheduled pickup with us and you're sure to have your commercial trash taken away regularly. Problem solved with our trash dumpsters Akron Ohio!

A 15 yard dumpster Akron Ohio may suit your needs on a scheduled ongoing pickup, so give us a call or book online and we can work with you to best meet your commercial trash and recycling disposal.
Demolition Trash Dumpster Rental Akron Ohio
Demolition work is often associated with heavy-duty materials, tearing down a building, or ripping out walls, and definitely requires having a trash dumpster rental Akron Ohio on site. A demo removal dumpster Akron from King Dumpsters is the local demolition contractor's choice when it comes to trash dumpster rental Akron Ohio.

You can't beat our heavy-duty containers for your demolition debris of all kinds. When you need a concrete disposal dumpster Akron Ohio, no one beats our equipment. We rent only well-maintained dumpsters so you don't have to worry about what you're putting in it. Our containers are easy to load, whether by hand or by equipment. You can collect all of your demolition debris easily and safely! Call us today to schedule your rental for a heavy-duty dumpster for your jobs containment needs or book online with our easy-to-use scheduling tool.

Why Choose Us for Your Dumpster Rental Akron OH

Why choose King Dumpsters? Because we are the most trusted, affordable, and convenient option for a dumpster rental Akron OH. Our team of professionals will keep the process of looking to rent dumpsters near Akron Ohio going smoothly from start to finish. Whether you are a first-time customer or a contractor who has been using our service for years, we give 100% customer service satisfaction every single time with our dumpster rental Akron OH service.

We are locally owned and operated, meaning our customers are our neighbors and that gives us the extra push to provide the best service. Friendly people on the phone and courteous drivers are all part of the stress-free dumpster rental near me in Akron Ohio that you'll receive time and again.

A dumpster rental in Akron OH is an easy way to complete your home project or make day-to-day business operations flow seamlessly. While we are not the cheapest dumpster rentals Akron folks know they can count on only because we offer a top notch service like no other. We strive to be the best in the area, and our thousands of satisfied customers prove it!


Affordable Dumpster Rental Akron Sizes to Choose From

King Dumpsters gives you sizes to choose from to best suit your disposal needs for an affordable dumpster rental Akron. With three sizes to choose from, we can handle all of your residential and commercial disposals with the utmost care and ease. Our company is one of your best options for a dumpster in Akron.

10 yard: Local homeowners often search for a dumpster rental Akron residents need for their trash removal. Most residential jobs will be handled by using the 10 yard container. Whether you're cleaning out the garage or attic, you'll be glad you got a dumpster to complete the job!

15 yard: Many local businesses use this size for their regularly scheduled removal needs. We can't be beaten for budget-priced containers, so you have come to the right place for a wide variety of dumpster size options. The 15 yard is great for smaller home projects like removing yard debris or single-room remodeling efforts to rent dumpster Akron.

Bigger households that are downsizing have a lot of trash to go into a dumpster rental Akron, you can get rid of it all at once. It's all gone with a handy container, no need for the hassle of trying to get the trash man to take things.

20 yard: Our biggest unit will be what the demolition guys use for their larger scale jobs. Do you manage an apartment housing unit? As you know, periodically you will need to renovate and our 20 yard will take away the old and worn-out fixtures so that you can invest and improve in your rentals.

Budget pricing is always a consideration for a contractor, and dumpster rentals can't be the budget buster. We keep our prices low so that the local business person can get that container on-site worry-free. If you're looking for the most cost-effective Akron rental dumpster, give us a call.
How to Book a Roll Off Dumpster Rental Akron Ohio Has Been Talking About
Choosing to rent dumpsters Akron OH from King Dumpsters couldn't be easier thanks to our easy and convenient online scheduling system. Choose the roll off dumpster Akron size you need from the scope and size of your project, pick the drop off and pick up dates, then complete your purchase! If you need further information about sizing options and which container would work best for your project, our representatives are here to help.

Scheduling and payment can all be done online 24/7 at your convenience. Renting a dumpster Akron should not be an intimidating process, so we welcome any questions you might have via phone or through our website. Anyone can rent a roll off dumpsters Akron Ohio, and everyone who does is always glad they did!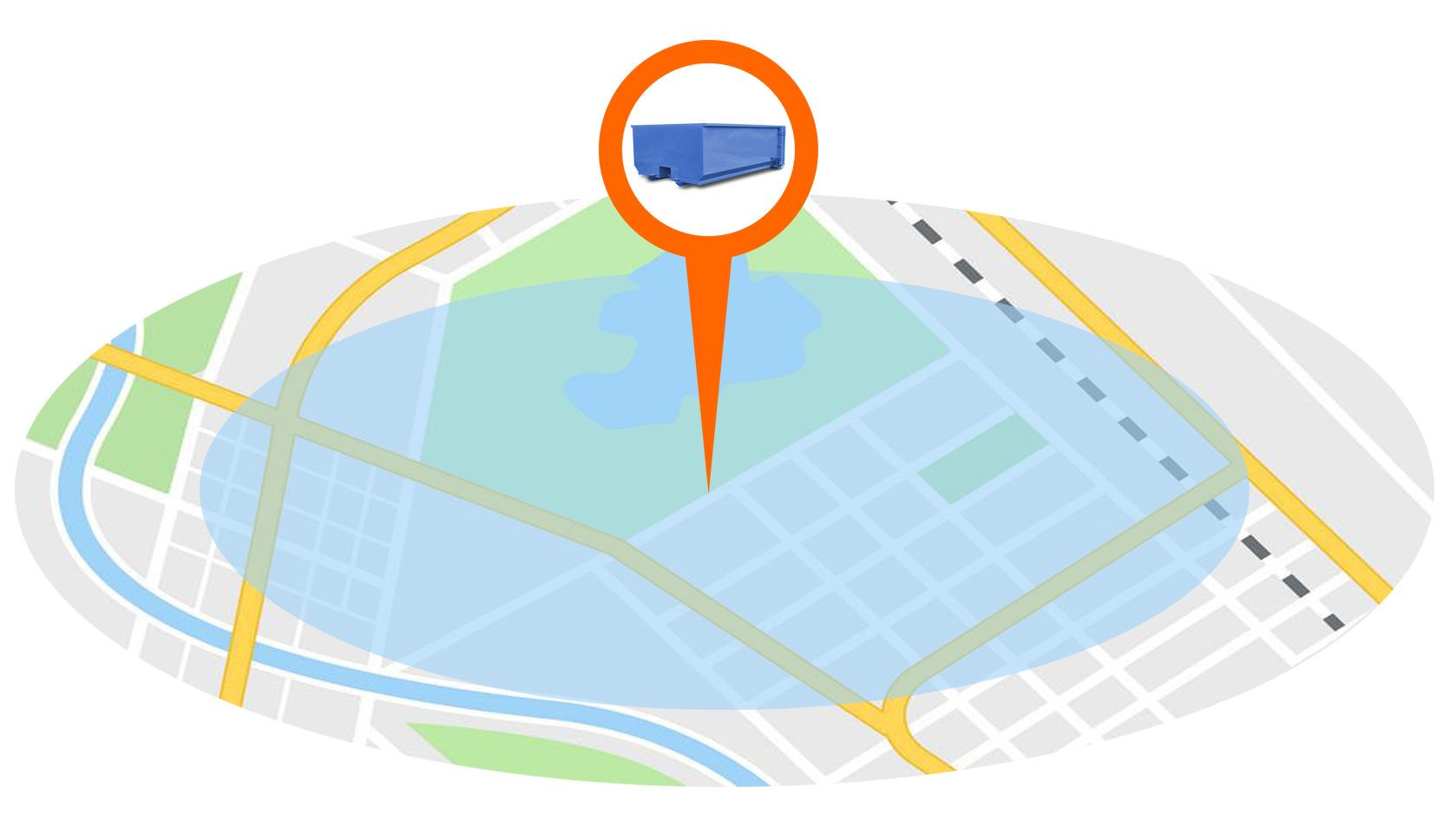 King Dumpster Rentals Service Area
We offer the perfect roll-off dumpster for your everyday tasks, and projects in Akron, OH and the surrounding areas! To see our full list of services areas, click the "Our Service Area" button! Please note outside of our immediate service area (15mi) a $2 / per mile charge will apply.
Service Area